I came across this amazing
blog
...and i thought it would be super cool to copy her!! ;)
I always have my phone attached to my hip...(By the way, if i don't answer...i usually SEE your call, i just don't want to talk to you at the moment! ;-P )
I'm ALWAYS snapping pics with my phone...so i thought this would be a great way to share little pieces of my week-weekend and a little bit of yesterday too.
Lunch (this was from last Thursday-@ work). Jasmine Brown Rice with beans and Avocado. YUMMY!!
Sushi Lunch date on Friday.
I loooove spicy tuna rolls. I could probably eat this every single day. I don't know what I'm going to do when I get pregnant!! I heard you can't eat sushi... It's going to be a LONG 9 months!! :(
I really don't know why i snapped this pic...it's a pic of my nightstand (my side, of course)...and it has a bunch of magazines, the movie Valentine's Day (that i always fall asleep 1/2 way through)....and a purple candle that totally doesn't go with the decor, but smells yummy (it's glade, plum).
By the way, my nightstand I created (LOL). it's one of those couch TV trays that i spray painted in white, and an oval mirror. It's obviously temporary...but it's holding up pretty good. :)
I went to the Salvation Army on Saturday...and they had this frame. It's not a great looking frame...but i really liked the quote for some reason (that is the reason i took the picture). You can't really see because obviously the pic is kinda tiny...but here is what it says:
"How long the road is. But, for all the time the journey has already taken, How you have needed every second of it in order to learn what the road passes by."
love it. I didn't buy it :(
I purchased this rug for my living room this weekend (LOOVE IT) from Lowes.
It was marked down to $68.60 from $98.00.
Love it.
Love this mirror...and for ONLY $64.00...it's a bargain!!
You can't really tell, because it's up high on the wall, but the "WOOD" frame is actually plastic....but hey, who's TOUCHING YOUR MIRROR ANYWAYS?!! Right?
And LAST but NOT LEAST: Hubby and I had date night last night, at a bar in RVC (a cute area near our house)...and it was TEN CENT WINGS NIGHT! Yes, that whole entire plate of wings was just $2.00. There is a catch though, there is a 1 drink minimum per person...but honestly...the wings are SO GOOD...and the drink specials are even better!! Who DOESN'T LOOOOOVE BEER AND WINGS ON A MONDAY NIGHT??!!! ;)
Ok, well...that's my take on "WHAT'S ON MY PHONE TUESDAY".
So...what's on your phone?!!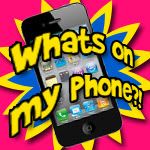 The guidelines.
1. spend the week looking for interesting, funny, cute, special, lovely, ugly, silly, crude (okay maybe not crude), or other worthy pictures. and by that it pretty much means anything.
2. when you find them, snap a shot with your phone.
3. then on tuesday, upload it into your blog.